Image: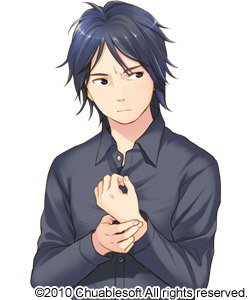 Name: Starrk Rosden
Age: 30
Gender: Male
High Concept: USMC-trained Assassin
Trouble: Once a Killer, Always a Killer.
Background: Starrk is originally from France but moved with his parents to America when he was 5. His father's job transferred him to America but his mother did not want to leave the country. So they fought and when Starrk left for the Army, she moved back to France. Starrk's father was heartbroken and, in his empty home, commited suicide. His first friend in the Army was his spotter, Charese. When they learned of his mother's departure and his father's suicide, it was the day before he final test before becoming a full-fledged sniper. He passed his exam with top marks, and earned his tooth. He dedicated it to his father.
Phase Aspect: Hog's Tooth
Rising Action: When he joined the USMC after college, he immediately signed up to become a sniper. He graduated top of his class. After a successful tour of duty with his spotter, they wer honorably discharged and they started their lives together as civilians. However, there were no jobs for a guy with his particular set of skills. At least, not doing normal work. One day, Starrk set out on a hunt to procure a M40A3 rifle, the same one he learned on while he was in the military. While there, he was approched by a person who wanted to pay him for his services if he was truly good with that weapon. Starrk flashed his hog's tooth and the person offered him a bunch of cash to eliminate someone quickly and quietly. Starrk took the offer and told Charese about the transaction. She looked him square in the eyes and told him "You'll need an assistant." From that point forward, they took on jobs as a team with his wife, Charese as his contractor.